bashflix 🍿
bashflix is a free video streaming with subtitles script that runs on MacOS and Linux 🎥
Here's a 15 seconds demo ▶️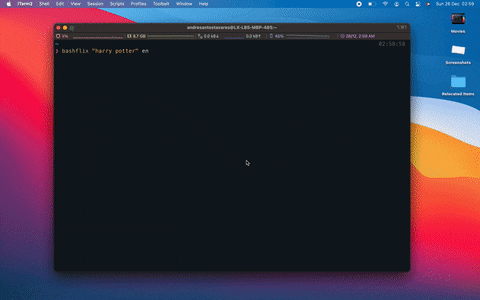 How to install (can take a few minutes):
If you are on MacOS,
Press ⌘+space, type terminal and press RETURN to open terminal app;
Copy & paste onto the terminal the following command to install Homebrew and update Bash: 🍺

/bin/bash -c "$(curl -fsSL https://raw.githubusercontent.com/Homebrew/install/HEAD/install.sh)" && \
brew install bash

Press RETURN and follow instructions presented on the terminal;
Run install script: 🖵
bash -c "$(curl -s https://raw.githubusercontent.com/0zz4r/bashflix/master/install.sh)"
How to use:
Open terminal app and type bashflix "QUERY" [SUBTITLES_LANGUAGE], then wait a few seconds for the magic to happen 🪄✨
(e.g. bashflix "MOVIE / SERIE S01E01 1080p" en)
Not working? 🙁
Run bashflix update;
Add select before "QUERY";
Pause video and wait a bit;
To sync subtitles, press j to speed it up or h to delay it;
Please report the issue here so we can fix it.
Powered by
pirate-get for magnet link search, peerflix for streaming, and subliminal for subtitles download.
Disclaimer
Downloading files via torrents might be illegal, depending on the content, so be aware of copyright infringements. Use a VPN for privacy.
License
This project is licensed under the terms of the MIT license.
Bashflix
Free Movie Streaming on Mac and Linux with subtitles
Bashflix Info
🕒 Last Update
8 months ago
➗ Star-Issue Ratio
Infinity