K-Atlas
What It Does?
K-Atlas (_pronounced Cutlass_), is a distributed graph based platform to automatically collect, discover, explore and relate multi-cluster Kubernetes resources and metadata. K-Atlas's rich query language allows for simple and efficient exploration and extensibility.
It addresses following problems in a large scale enterprise environment of Kubernetes.
Discoverability

Find K8s objects across multiple distributed K8s clusters
Real-time view of discovered objects
Streaming APIs and UI for both programmatic and human interactions

Advanced Exploration

Identify similarities and differences between objects from pods to clusters
Correlate different objects by performing advanced join operations

Federated Application View

Applications take center stage. K-Atlas provides a unique, application-centric view, with metadata from multiple clusters
Single pane of glass view of the entire application - from edge to database, across all clusters, regions etc.

Reporting

Provide advanced reporting on compliance, security and other organizational policies

Policy Enforcement

Allow for organizational policies to be enforced across the fleet in a consistent manner
Check out more details on Motivation and Use Cases that K-Atlas is addressing.
It provides a Web Viewer that can be used to search the Kubernetes cluster data and view graphical results in real time.
Click on the thumbnail below to see a demo video.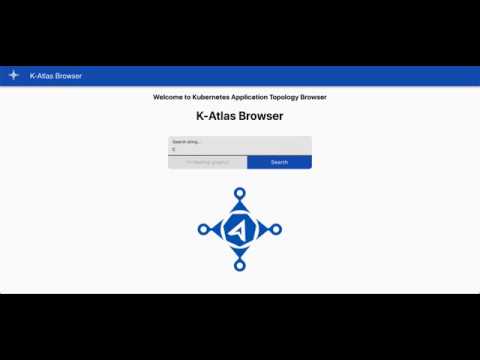 Core Components
Collector
The collector is responsible for discovery of Kubernetes assets in Kubernetes Clusters. For details on the Collector design, please refer Design Concepts
K-Atlas Service
The K-Atlas Service exposes APIs that can be used to get details about Kubernetes entities and run queries to help diagnose issues in Kubernetes clusters. For details , please refer K-Atlas APIs
K-Atlas Browser
The Web Application exposes UI search capability to search clusters based on several criteria and provide a real time graphical view of entities. For details on usage, please Click here to see a demo
Graph Database
Dgraph is used as the graph database. To know more about our motivation to choose Dgraph, please refer Design Concepts
Deploying to a Cluster
Technical Requirements
Make sure you have the following prerequisites:
A local Go 1.7+ development environment.
Access to a Kubernetes cluster.
Setup Steps
How to Set Up.
Releases
Latest version (v0.6)
QSL query support
Dynamic search result layout based on QSL
Graph view based on QSL query required objects & relationships
Pagination support for both API and UI
Custom metadata definition via new API
More details about specific K-Atlas features are at Release Notes.
Contributing
We encourage you to get involved with K-Atlas, as users or contributors and help with code reviews.
Read the contributing guidelines to learn about building the project, the project structure, and the purpose of each package.
Katlas
A distributed graph-based platform to automatically collect, discover, explore and relate multi-cluster Kubernetes resources and metadata.
Katlas Info
🕒 Last Update
4 months ago